Went out for dinner last night (well, we go out most nights). What made this night different is that we went somewhere that had decent drinks. The restaurant has recently expanded, and has a number of good single malts available. What a great way to try new things!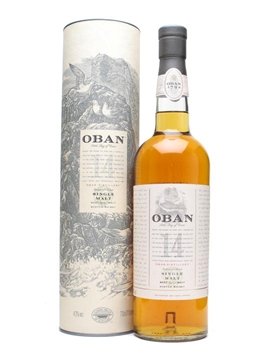 Last night's drink was Oban 14 year single malt.
The feel of the drink in the mouth was just so smooth. It was like velvet. Needless to say, when swallowed, the smoothness was obvious as well.
The scotch itself had almost a fruity taste to it.. There was very little smoke in the smell. I drank it neat, and just never felt the need to add a bit of water or ice to open up the nose.
The price wasn't unreasonable, as far as scotches out go. It was $7 for a 2oz pour. A bottle on the web seems to run anywhere from $50-$77.
If you're looking for a smooth drink, and you don't feel like a really smoky scotch, this is an excellent choice.